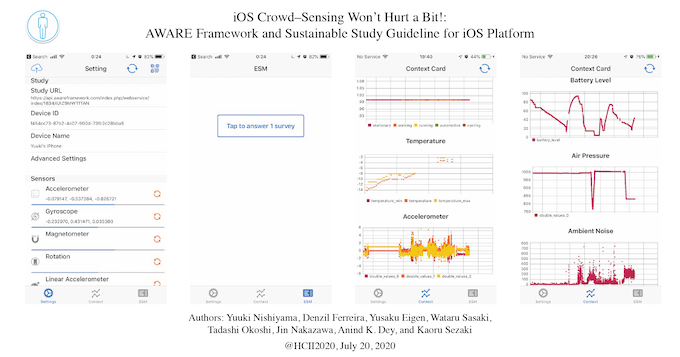 Our paper ("iOS crowd-sensing won't hurt a bit!: AWARE Framework and Sustainable Study Guideline for iOS Platform") regarding AWARE Framework for iOS is officially published on the web! Additionally, we have had a presentation about the paper at HCI International 2020 on July 20. A preprint version of the paper and the presentation material is attached on this page. We hope this framework will help other researchers' works!
In this paper, we designed, implemented, and evaluated an open-source mobile crowdsensing framework for iOS, namely AWARE-iOS. Moreover, we assessed the performance of the framework includes: battery life, I/O, and data collection rate. Finally, based on the assessment, we proposed a guideline for a sustainable mobile crowdsensing on iOS. Please get more detail from the paper.
Materials
The published version can be downloaded from here.
Softwares
The proposed library (AWARE-iOS) and client (AWARE Client iOS v2) are published on the following links:
Citation
Please cite the following paper if have a chance to use AWARE Framework for iOS.
@InProceedings{aware_ios,
    author={Nishiyama, Yuuki and Ferreira, Denzil and Eigen, Yusaku and Sasaki, Wataru and Okoshi, Tadashi and Nakazawa, Jin and Dey, Anind K. and Sezaki, Kaoru},
    title={IOS Crowd--Sensing Won't Hurt a Bit!: AWARE Framework and Sustainable Study Guideline for iOS Platform},
    booktitle={Distributed, Ambient and Pervasive Interactions},
    year={2020},
    pages={223--243},
    isbn={978-3-030-50344-4},
    doi={10.1007/978-3-030-50344-4_17},
}